SW Indonesia is holding the SW PAINTING FESTIVAL 2022 with the theme "Astungkara, Rise up with Bali." This event featured paintings by Balinese painters, namely Nyoman Sujana Kenyem, I Wayan Suastama, Ketut Sugantika Lekung, Teja Astawa Ketut and Made Wiradana. The works shown are original works of painting on canvas. By organizing this event, SW Indonesia shows its concern for preserving arts and culture and support for art activists.
Table of Contents
The SW PAINTING FESTIVAL 2022 will be held in the cities where SW Indonesia's offices are located, namely Tangerang, Surabaya and Jakarta. The event will start at the Main Lobby of the at Alam Sutera Mall (Tangerang) on July 2 – 10, 2022. After that, the event will move to Ciputra World Mall (Surabaya) on July 16 – 24, 2022, and Neo Soho Mall (Jakarta) on July 16, 2022. 6 – 14 August 2022. The spirit of the SW PAINTING FESTIVAL 2022 is to support Indonesia's rise from the pandemic through social action by helping painting artists from Bali market their paintings in three big cities.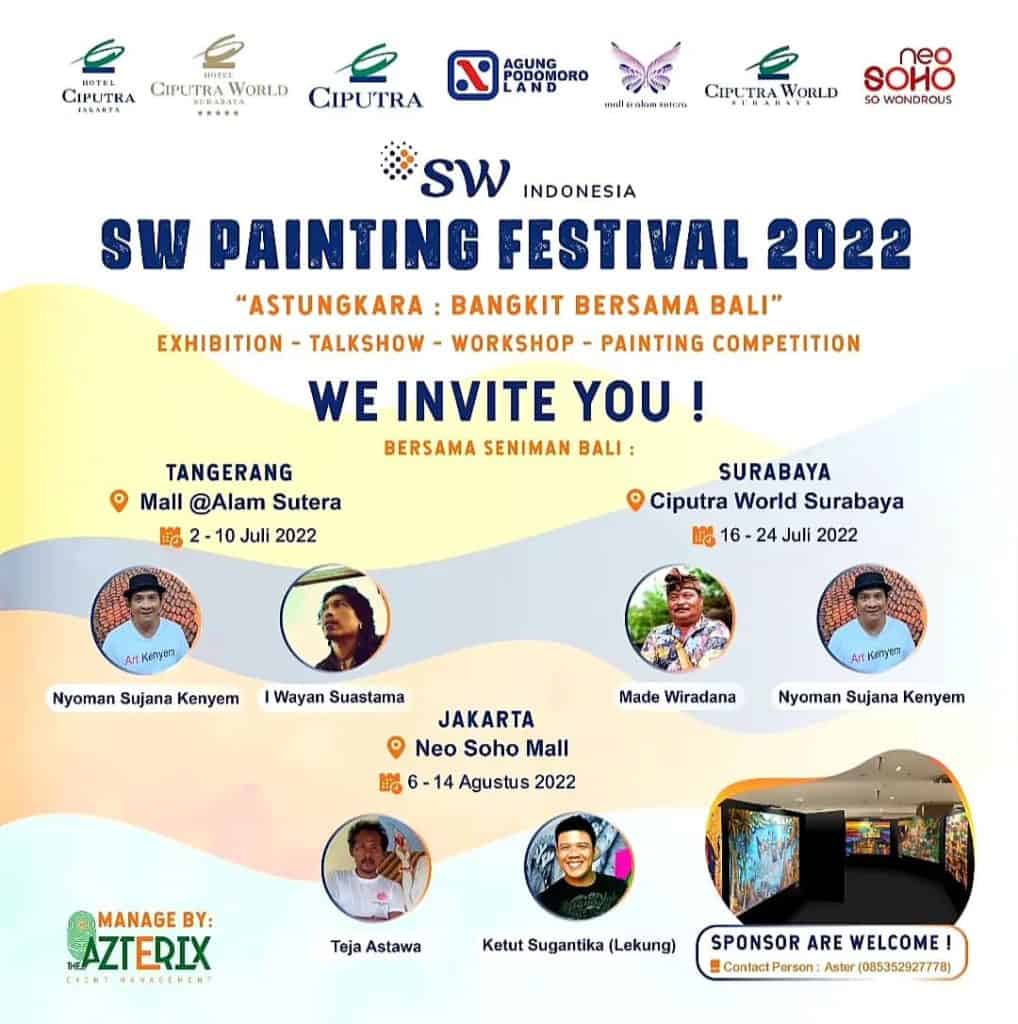 Importance of Bali as a Cultural Icon
The international community understands that Bali is an icon of Indonesian tourism that has an appeal to its culture and nature. Bali was chosen as the location for the G-20 Summit in 2022, where Indonesia will act as the host. Various international events are held in Bali, so there are many business opportunities and opportunities to get new networks.
SW Indonesia's Presence in Bali
SW Indonesia also has an office in Bali, which had started operating in early March 2022. Foreigners own many start-up companies, and they work from Bali. This is by the concept of the new normal era, Work from Anywhere.
SW Indonesia's Services and Cooperation in Bali
SW Indonesia in Bali provides company establishment and set-up services and implementation of company administration compliance. Including business advisory services for mergers and acquisitions that continue to grow in Bali. In addition, SW Indonesia cooperates with The Azterix, event management for clients who hold national-level activities or international conferences in Bali.
Highlights of the SW PAINTING FESTIVAL 2022
The SW PAINTING FESTIVAL 2022 events will be held in exhibitions, talk shows, workshops, and painting competitions. The collection that will be held will present various works of art by Balinese painters in the form of paintings from different styles and painting techniques so that visitors to the exhibition, in general, can enjoy them. The talk show held was not limited to painting.
Exhibitions, Talk Shows, Workshops, and Painting Competitions
In addition to sharing sessions by painters, the talk show will be filled with resource persons with topics relevant to current world conditions. The workshop will provide participants with an overview of the basic techniques in painting so that it becomes a good forerunner for the participants. The painting competition is directed at children and adolescents aged 8 to 18, supporting the preservation of painting in terms of mentality, interests, talents, and work.
About The Azterix Event Management
This event is managed by The Azterix Event Management, an event management team always ready to make event planning successful for individuals, communities, entrepreneurs, and corporate levels. The Asterix has an agile, enthusiastic, and communicative team prepared to respond to any conditions encountered during the event. Don't miss to attend the 2022 SW PAINTING FESTIVAL in three cities on each of these dates; let's rise with Bali!
Are you looking for professional assistance or more information about the SW PAINTING FESTIVAL 2022? Look no further! SW Indonesia is here to support you. As a trusted partner in company establishment, administration compliance, business advisory, and event management, SW Indonesia has the expertise and experience to make your participation in the festival a success. Contact us today at +62 2993 2132 or email us at [email protected] and let our dedicated team guide you through the process. Don't miss this chance to be a part of the SW PAINTING FESTIVAL 2022 and experience the vibrant world of Balinese art. Let's collaborate and make your artistic journey extraordinary with SW Indonesia!