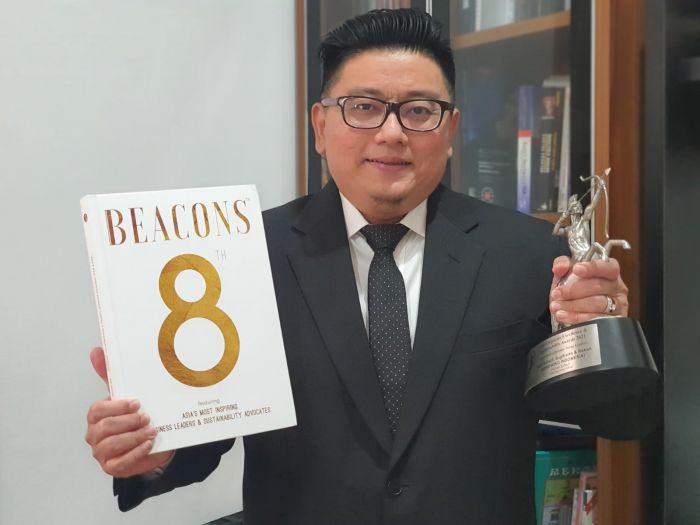 SW Indonesia CEO Michell Suharli was awarded as Asia's Most Admirable Young Leaders at the 2021 Asia Corporate Excellence & Sustainability Awards (ACES Awards) international award. Michell's professional track record of developing SW Indonesia became an inspiration and was awarded international awards as the most admired young leader in Asia.
The ACES Awards have consistently honored Asia's leading leaders and companies since 2014. The ACES Awards are one of the most prestigious awards in Asia with a list of winners who have brought inspiration and success stories with a good reputation in Asia to the global stage.
At the awarding of the ACES Awards 19 November 2021, the names of Michell Suharli and KAP Suharli, Sugiharto, and Partners (SW Indonesia) were announced along with award recipients from different categories. Noted names of multinational group companies that received awards this year include Astrazeneca Pharmaceuticals, Johnson & Johnson, Nestle, Biogen, Lufthansa Technik, Shell Petroleum, and Zuellig Pharma. In the individual category, Michell Suharli is the only Indonesian professional and only one public accountant to receive the ACES Awards at the 2021 event.
The awarding of Michell in the 2021 ACES Awards is considered appropriate for his vision, actions, and leadership methods that are able to shock the field of public accounting firms (KAP), among market leaders that have been successful for decades or even hundreds of years. "Michell Suharli has marked a milestone moment in his professional career by successfully turning a small public accounting firm into a large one as the global network of independent accounting and consulting firms that it is today. This is truly inspiring," said MORS Group Chief Executive Officer Shanggari Balakrishnan in an official statement. , Sunday (21/11).
In the difficult times of the pandemic, Michell has actually succeeded in demonstrating SW Indonesia's resilience in improving performance, both from the client side and revenue. In addition, his strategy of increasing the number of employees and involving foreign accountants has succeeded in boosting the competence of young Indonesian auditors. He builds harmonious professional working relationships in diversity by prioritizing local Indonesian wisdom in leading a world-class accounting and consulting firm, namely SW Indonesia.
The admiration for Michell Suharli's leadership, continued Shanggari, is based on the achievements and achievements he has received from leading organizations from within and outside Indonesia. Domestically, Michell is trusted as one of the Supervisory Boards of the Indonesian Institute of Certified Public Accountants (IAPI), the Ethics Committee of the Indonesian Institute of Accountants (IAI), Chair of 2 Ethics and Professional Standards Development Committees of the Indonesian Association of Tax Practitioners and Professional Consultants (P3KPI), and Chairman Alumni Association of the Faculty of Economics and Business, Atma Jaya Catholic University of Indonesia.
Internationally, Michell is the holder of professional certification for CPA Australia, ASEAN CPA, and Cert.-IPSAS from the Association of Chartered Certified Accountants (ACCA), and is trusted as one of the Stakeholder Councils in Indonesia by The Institute of Chartered Accountants in England and Wales. (ICAEW). His track record in the accounting profession has also led Michell to be trusted as a member of the audit committee of PT Chandra Asri Petrochemical Tbk, the largest petrochemical company in the region.
Not stopping in the professional field, Michell is also actively leading in the fight against covid-19 in a tangible form at the forefront of organizing various vaccination centers from August to the end of 2021. His professional and personal achievements are the strong factors that make Michell a inspiring young leader.
SW Indonesia is a world-class professional network of accounting and consulting firms. Three companies under the auspices of SW Indonesia, namely KAP Suharli, Sugiharto, & Partners for audit services and other assurances; SW Consulting for tax consulting services; and SW Solution for business administration and advisory services. SW Indonesia has become a new star in the field of accounting firms and business consultants in Indonesia. The combination of senior legends and the enthusiasm of young professionals has become an extraordinary energy convergence for SW Indonesia in strengthening its unique positioning point as Archipelago Firm and Consulting, Asia Pacific Business Hub, and Indonesia Investment Gateway.
SW Indonesia strives to be present in many provinces in Indonesia as a form of Archipelago Firm. SW Indonesia also provides professional services to multinational business companies conducting business operations in the Asia Pacific region as a form of the Asia Pacific Business Hub. Lastly, as an Indonesia Investment Gateway, SW Indonesia also offers solutions for investment activities in and out of Indonesia, company establishment, compliance with routine company requirements, as well as mergers and acquisitions.
According to Shanggari, Michell Suharli worked hard and smart to realize his dream through the organization's vision in various efforts. The economy and business in Asia deserve to continue to grow with great economic strength with young leaders who are demonstrating courage, passion and real contribution like Michell Suharli. (OL-14)
Source: https://mediaindonesia.com/ekonomi/448427/ceo-sw-indonesia-michell-suharli-raih-aces-awards