Other Value as Tax Base for Certain Agriculture Goods
Table of Contents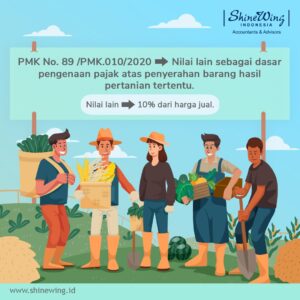 Brief Explanation
Allowing to use 10% of agriculture good's selling price as VAT base (Art. 3(2))
Whereas VAT rate is 10%, therefore the effective VAT rate for agriculture goods is 1%
Effective as at 27 July 2020
As this benefit is chosen by seller, VAT-IN in relation to selected goods can no longer be claimed (Art. 5(1))
Commodities allowed are listed in NO. 89/ PMK.010/2020-ATTACHMENT
(https://fiskal.kemenkeu.go.id/data/document/peraturan/PMK-89.010_%202020.pdf)
Further Outline
ART. 5(2)
VAT taxable who uses other value as tax base should issue tax invoice or other document equivalent with tax invoice
ART. 6(2)
Industrial company is appointed as VAT collector for deliveries of goods, that use other value as tax base
ART. 7(1)&(2)
VAT taxable who chooses to apply other value as tax base should submit notification at the latest of the first monthly VAT return reporting on the tax year in which other value tax base is used.
ART. 8(1)&(4)
VAT taxable can revert to use selling price as tax base at the following year, by submitting notification. If VAT taxable uses selling price as tax base, they may not revert back to use other value as tax base
Notification Procedure
ART. 9
Notification should be submitted electronically through director general of tax's determined channel
If the channel is not yet available or there is disruption, notifications must be made with determined format and submitted;

directly to tax office
send through tax office's registered email
postal service (with proof of deliveries)
freight forwarding or courier (with proof of deliveries)

Must be signed by taxable individual or highest ranked of director or authorized officer in a company with a copy of company's Article of Association or the proof of its establishment and amendments, in case VAT taxable is a corporate.
Looking for expert assistance with VAT implementation and optimization? Look no further than SW Indonesia, a leading consultancy specializing in tax management and advisory services. Our team of seasoned professionals is well-versed in VAT regulations and can provide tailored solutions to meet your specific needs. Whether you require guidance on VAT calculations, compliance, or strategic planning, we are here to support you every step of the way. Contact SW Indonesia today at +62 2993 2132 to unlock the full potential of VAT and elevate your business to new heights.